The Town of Castle Cary, Somerset, England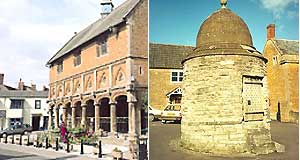 Castle Cary, Somerset is surrounded by rolling hills of countryside that are the Somerset Levels, Blackmore Vale, Mendip Hills & Penselwood. It is a charming market town benefiting from beautiful historic buildings while incorporating modern day amenities & with a winding main street of thatched cottages built of the local golden 'ham' stone which gives the town's buildings their lovely golden colour. 

You can see the 18th century 'pepper pot' lock up, one of only four in the country and the Possi Gallery which hosts a programme of art exhibitions. 

It also has high quality shops including grocers, outfitters, ironmongers, books, antiques, local produce, delicatessens, cafes and restaurants. 

Cloth has been produced commercially in Castle Cary since at least the 14th century and John Boyd Textiles continue that tradition. 

The Market House dominates the centre of the town, housing the Museum, two old prison cells and the Information Centre. The largest church in the town is All Saints'. This dates from 1470 and is notable for its high steeple, which houses six bells dating from 1760 and made by Thomas Bilbie of the Bilbie family. 

Located on the River Cary the town enjoys good main line rail links to the Capital & the South & South West coasts..